Understanding Digital Cameras: Getting the Best Image from Capture to Output (Paperback)
Jon Tarrant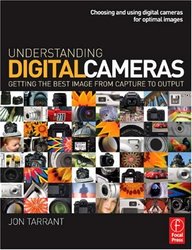 出版商:

Focal Press

出版日期:

2007-04-09

定價:

$1,225

售價:

2.4

折

$299

語言:

英文

頁數:

360

ISBN:

0240520246

ISBN-13:

9780240520247
商品描述
Description
Understanding Digital Cameras will help you to:



Choose the right camera, lens and output option to capture the perfect image

Develop great technique, whatever your style or subject matter

Be inspired! Showcasing a wide range of images, plus the work and insights of guest photographers
This key resource for all photographers will help you get the very best from today's sophisticated digital cameras.

Discover which type of camera, lens, lighting and printer is right for you with clear explanations and close-ups of camera settings and menus. A key tool to improve your photography is to see comparison images side by side. Tarrant shoots the same scene with different equipment or a different approach, to show exactly what a camera and technique can or can't do. He also shows you images that haven't worked - and explains precisely why.

In this book you will learn essential photographic techniques, before moving on to specific genres: people, nature, action shots and working in the studio. Detailed captions throughout explain which camera and lens was used for each shot and highlight key factors in getting the right exposure, lighting and composition. There is an essential troubleshooting guide to printing errors such as smudges, lines and colour casts. Discover how to produce fine art prints and optimize images for the Web. Plus key technical information on digital and optical quality and colour management.

Packed with tips, clear explanations, with all photography terms defined, box outs with key information, and showcasing a wide range of image styles and subjects, this book (and a camera!), is all you need to start creating great images!

Jon Tarrant has spent many years as an award-winning professional photographer and much-published photographic writer. He is former editor of the British Journal of Photography, to which he still contributes, and of Professional Photographer and HotShoe International magazines.
Table of contents
Introduction
Digital World
Digital Camera Features
Digital Lenses
Camera Settings
Exposure and Lighting
Digital Images
Pictures of People
Close-Up Photography
Landscape Photography
Action Photography
Printing Systems
Printing Problems
Fine Art Printing
Imaging Software
Colour Management
Epilogue
Glossary
Digital Technicalities